When did we ever have a week when forgiveness, reconciliation and peace were at the top of every newscast and on every journalist's lips? Nelson Mandela has left an amazing legacy - up to us in the rest of the world to carry it forward. Amazing timing for these discussions - two weeks before Christmas.
Well, they said it wouldn't happen, but the Royal Bank raised their interest rates this week - both fixed and variable. If you are thinking of making a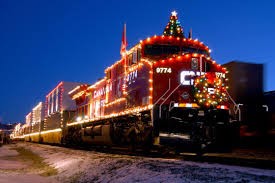 purchase, make sure you have a full preapproval with a capped rate for the longest time possible. And...start looking! We can send you the brand new
listings as they go on the market if we just know what you're looking for. Not only can we give you a headstart on those desirable, newly listed properties,
we can also give you our "buyer 101" seminar!! We are your real estate resource. There is low inventory in the detached market right now - great time for these sellers. Excellent opportunities for buyers in the condo and townhome market - lots of choice here at competitive prices.
What would Christmas be without the CP Holiday Train? It rolls into Port Moody, Monday (Dec. 16) 5.25pm behind the Recreation Complex - complete with Christmas lights, music and live entertainment. So...come on down with your donations for the Food Bank. After the train pulls out, the seasonal festivities continue in the Galleria at Port Moody City Hall. Last year our community raised more that 990lbs of food and more than $9000 for Share and the Food Bank. Let's beat our own record this year.
http://www.cpr.ca/en/in-your-community/holiday-train/Pages/default.aspx

Enjoy the season - have a great week.

Remember, when it comes to real estate we've got you covered.

Sheila