One of the most common plumbing pipe materials used from the late 1970's to the late 1990's was Poly Butylene pipe, Poly B for short. It is a gray pipe connected with both grey plastic fitting made of acetyl plastic or with copper fittings. It was used for plumbing supply pipe and also for Hot water radiant space heating applications.
Consumers in the Southern States had their piping systems installed in attics exposed to high temperatures with water with elevated chlorine levels. This caused high failure rates with high property damage due to the location of the pipe. In Canada the early installations were connected with the plastic acetyl fittings. Over time these proved problematic. The consensus for the reason of failure is that elevated chlorine levels in the water made the plastic fittings age harden and fail under pressure. In the early days of use the materials were often stored outside exposed to sunlight which also made the pipe fail sooner. This is also true of Poly ethylene pipe we use today as well. Hence this is why all Pex pipe is stored under cover or inside.

This is not the case in Canada. Most of the systems I see in the Lower Mainland are installed with copper fittings crimped in place and in areas where high temperature exposure is anticipated such as near the hot water tank copper pipe is added to avoid problems. This has proven to be very reliable. The reality is that any plumbing system can have defects or leaks over its lifespan. Repairs are common on most systems I inspect.

It is estimated that there somewhere in the order of 150,000 homes in BC with this type of plumbing system. The vast majority with copper fittings have performed well. In Alberta the Department of municipal affairs has investigated and found that virtually all failures in Alberta are the result of workmanship issues.

If you do need to repair or extend an existing system the product is no longer available but a transition coupler will need to be used.
The new product which replaces Poly B is Poly Ethylene Pipe or Pex for short. It is a stiffer and stronger plastic pipe which is engineered to handle higher temperatures and stress. It has been in use since 1998. If in doubt have a reputable plumbing contractor review your entire system and advise you on their recommendations and the cost of repairs.

Insurability of the home may be an issue for your insurance broker or company. Check with your broker. They may put restrictions on your insurance either but raising the deductible, increasing the premium or adding other conditions. Ultimately the final solution is to re-pipe the home. The cost of this varies enormously with the size, type and degree of finishing involved. Always obtain several quotes and ask about the refinishing costs. Scheduling replacements or updates of the system when other renovations occur can reduce costs. E.g.: kitchen or bath renovations already require a plumber or general contractor so cost savings can be had.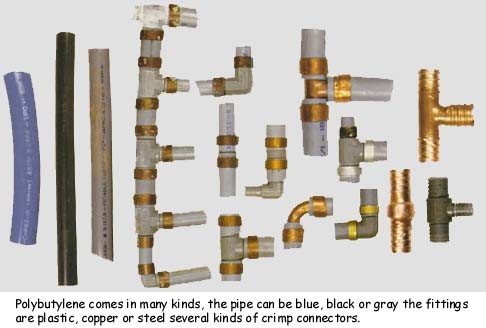 When Poly B is used in a radiant hot water heating systems several issues arise. Oxygen transfer thru the wall of the pipe occurs so that ferrous metal components fail. Several technical solutions are available. When components fail they are replaced with either stainless steel or copper components so corrosion is not possible. Adjustm
ent of the operating controls to avoid high temperatures is also needed.

Sometimes another approach is used. Separating the poly B loops from the heating components but allowing energy transfer is accomplished with a heat exchanger. There is a penalty here in that the maximum effiency of a heat exchanger is 80%. So it will cost you more to heat your home using this approach. If in doubt always have a reputable Hot Water heating specialist review your system and make recommendations.



Roland Klann, RHI BC License 47331 HomePro Systems2000 Inc. 604 240 3314
www.Homeprosystems2000.ca