"Never in the field of human conflict was so much owed by so many to so few" - Winston Churchill.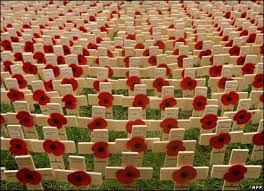 Monday
is Remembrance Day - so personal to me as my Dad went directly from being a university student to being an officer in the Royal Navy and serving on an aircraft carrier, HMS Venerable, throughout World War Two. His younger brother survived 67 bombing missions as a rear gunner in a Lancaster. Their parents were the lucky ones - both sons returned home. But youth was lost and life was different. We have so few of these Second World War veterans still alive that soon there will only be their stories kept alive by us. Remembering is not only an act of honoring those who sacrificed so much, but a preventative measure against war and an incentive for peace.
These days we have so many young veterans of more recent wars - many with severe physical and psychological damage. Our government sent them to fight for us and our country, but is not taking seriously the necessity for looking after these vets and their families, both medically and financially. Something we can all do this
November 11
is to communicate with our MPs and express our outrage that we are not doing the right thing by our war veterans - we owe them every opportunity to enjoy the rest of their lives.
Our communities all hold Remembrance Day services - for details -
www.thev3h.com
- events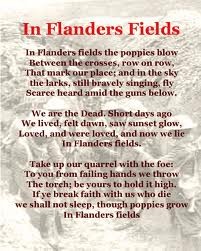 "We are the Dead. Short days ago
We lived, felt dawn, saw sunset glow,
Loved and were loved, and now we lie
In Flanders Fields"
From "Flanders Fields" - by John McCrae, May 1915