On February 24, 2016 we encourage everyone to practice kindness, and wear a CKNW Orphans' Fund Official Pink Shirt, button, or pin to symbolize that you do not tolerate bullying. While we wish we could take credit for this idea, Pink Shirt Day has its roots in Nova Scotia, started by two incredible high school students.

Team Francis & Hawthorne RE/MAX Realtors are feeling pretty in pink: will you join in by wearing pink on February 24, 2016? Have you made an effort to practice kindness and acceptance towards both yourself and others? Do you have a story about being bullied, how you stopped a bully or about how bullying has affected a loved one?

Find out about it here: www.pinkshirtday.ca
You can donate here

Since 2008, the CKNW Orphans' Fund and CKNW radio station have been raising funds for anti-bullying programs. 100% net proceeds raised are distributed to various organizations outlined below. The programs we fund support children's healthy self-esteem, both with their peers and themselves. They teach empathy, compassion and kindness.
In 2015, over $350,000 in grants distributed to the following non-profits: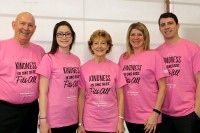 http://ls4.co/1bDc